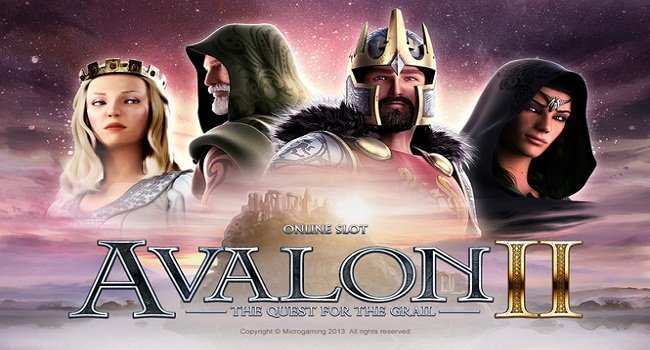 Avalon 2 is a best online slot game powered by Microgaming. This is a video slot game of 5 reels and 243 paylines and is one of the most played slot machines in recent years.
This is an adventurous slot game which is playable at mobile phones, tablets or at personal computers with the help of starting coin of just 30p per spin to up to €£150 per spin.
The game has a jackpot of 7500 times on your total stake. The game also contains free spin feature, wild symbols as well as scatter symbols. Auto play option is also available in the game.
Avalon II slot is a successor of Avalon video slot which was very popular indeed. As mentioned earlier, the game is developed by Microgaming gaming and hence it has an edge over others.
Avalon II slot is based on King Arthur and the Knights of the Round Table where the background soundtrack is simply awesome.
In this slot game there are a lot of low paying symbols as well as high paying symbols. The normal playing card symbols are low paying symbols, however symbols such as Guinevere, Black Knight, Morgan, Merlin and Arthur are most paying symbols.
The game includes 2 wild symbols one is The Avalon 2 logo and the other is the Lady of the Lake. The second wild appears on only on middle 3 reels and it expands throughout the reels.
The game has a whooping number of 10 bonus features which would allow you to win big. One of them is the Grail Quest Feature.
The most important feature of this slot machine is the Grail Bonus feature where you will be able to play 8 bonus rounds.
This Grail Bonus feature can be triggered when you land 3 or more Grail symbols on your reels.
While doing this and triggering the Grail feature, you would start a journey to the kingdom on your quest to the Grail and return it to Avalon.
The first bonus round of this feature is Lake of Legend Bonus. In this bonus round, you need to complete Excalibur by reforging the sword fragments.
If you are lucky to match the sword fragment with the matching dice number then you will receive equal amount of multiplier.
Like if you hit 6 then you will receive 6 times of your bonus while for 10 dice rolls you will get 15 times on your total stake.
The second bonus round of this feature is Misty Value Bonus. In this game you will have to choose your wild and you will then receive 15 free spins with 1x of multiplier.
The third bonus round is the Whispering Woods Bonus feature where you will pick 1 from 5 options.
The fourth bonus round is Forest Falls Bonus where you could receive 20 free spins with 1x multiplier.
The fifth bonus round is Dusky Moors Bonus feature where you will see 12 objects on your reels and you then need to match 2 helm of same to get 6 to 20 times of your bet.
The sixth one is Morgan's Keep Bonus feature which allows you to win 20 free spins with 2x multiplier and the seventh one is Hall of Shadows Bonus feature where every spin will get you cash prizes.
The last and final bonus round of this feature is the Isle of Avalon Bonus feature which gives you the highest bonus award.
You can win a maximum of £121,500 if playing Avalon II slot machine powered by Microgaming casino sites below.
Play Here